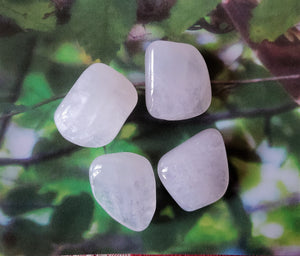 Petalite can be used for ADD, ADHD, excessive worry or stress, and other instances of overactive ego-mind. It is helpful in regulating blood pressure and calming/preventing anxiety attacks.
Petalite assimilates healing of the endocrine system. It is useful for the treatment of AIDS and cancer. It benefits cells, eyes, lungs, muscular spasms. and the intestinal tract.
​Petalite supports you when the chemicals in your brain are out of balance, when you are perhaps going through a manic period. Helps to correct mood imbalances due to its lithium content, but it is not dangerous to handle, as it has a 6.5 rating on the mohs scale of hardness. Will not transfer through the skin.
​
It is particularly useful for ancestral and family healing, looking back at the point at which things went off track.
About 5/8" in size. You will receive ONE stone.