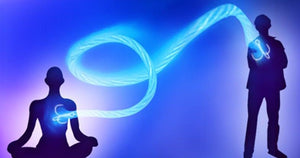 This flush can be performed effectively in person or by distance.
Etheric cords are those energetic attachments or anchors that connect us to others, as well as animals and inanimate objects. You may often hear them referred to as energetic filaments that can become quite thick due to the drain of energy between the two. They can be healthy or unhealthy. Healthy cords attach at the heart chakra, unhealthy ones attach elsewhere, and in my experience, they most often attach at the back. 
It is a good idea to periodically clear yourself of energetic attachments/anchors. The process clears you of negative attachments but leaves the vital/loving cords alone, simply strengthening and purifying them so that they become healthier overall. During the process you will be asked to let go of those things you are mentally holding onto and find a neutral space within you while the practitioner performs the clearing. You may take a warm salt/epsom salt bath prior to the session to assist with the releasing/clearing process if so desired.
After the flush you will feel lighter, clearer and ready to form more healthy attachments with others. Always keep in mind, you become more like those people, things and places you associate & identify with. The better you treat yourself and others, the less likely that unhealthy cords will form. 
We have all we need within us to achieve the wonderful blessings life has to offer. Learn to say no when you need to, and yes when you know you should be allowing good energy into your life.
This process will take about 40 minutes, as I have mentioned above, either in person or by distance. Once you complete the transaction, I will contact you for instructions and for Q & A :-)
Let's get you cleared and those heavy anchors pulled up so you can live a lighter, happier life!
* I am certified in a multitude of energy healing techniques and I also teach them. Please see my bio page to learn more about me.